A Special Birthday
Symeon Shimin
It's the morning of a young girl's birthday. She's still sound asleep in bed but secretly someone is tucking a ribbon beneath her pillow – a ribbon that, when she wakes, will lead her to an exciting array of parcels and packages.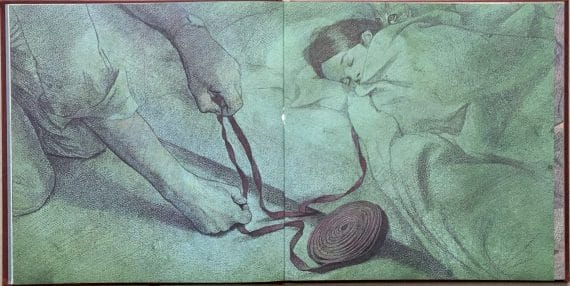 As the ribbon is wound around a doorknob, chair and table, a cute kitten watches on. And, once she has woken, the girl and the kitten set about following the ribbon trail all over the house.
One by one, the gifts are revealed. Some small, some large. Throughout, the girl beams with delight at her discoveries while the kitten has fun playing the tangled ribbon.
Eventually their journey ends with the revelation of a final parcel hidden in a cupboard. And the story is completed with a big hug between the little girl and the person who set up the adventure (presumably her father).
The painterly illustrations in this book are hugely accomplished. They are shown full-bleed, and colour is effectively used to distinguish between night and day, with a delicate sea green for the early scenes and a warmer palette of browns and yellows for the later ones.
Symeon Shimin (1902-1984) was a Russian-born artist who emigrated to the States with his parents in 1912 to escape the Pogroms. At 16, he became apprenticed to a commercial artist, attending classes at Cooper Union Art School in New York at night.
Shimin went on to achieve great success, creating film posters for Hollywood and illustrating over 50 books for children. His best-known work is the mural Contemporary Justice and the Child (1936-40) at the Department of Justice building in Washington DC.
Interestingly, the book is dedicated to 'Toni and Toby whose birthdays were celebrated in this fashion'. And the definitive book about Shimin's work, The Art of Symeon Shimin, is written by his daughter Tonia Shimin.
So could the young Tonia have be the model for the little girl in this book? It seems likely.