Anno's Journey
Mitsumasa Anno
Those who enjoy visual puzzles will almost certainly like the work of Mitsumasa Anno. This Japanese former maths teacher has created many entertaining mathematical picturebooks, such as Anno's Maths Games (1997) and Anno's Mysterious Multiplying Jar (1999) and, like the graphic artist M C Escher, he enjoys tricking the eye and playing with impossible perspectives. But that's by no means all this amazing artist does. In Anno's Journey – the first of five wordless 'Journey' titles he published, including Anno's Italy (1979) and Anno's Britain (1982) – his false perspectives are just one of the many games he plays with the reader.
The book came about as a result of two journeys Anno took through Europe in 1963 and 1975, where he observed and drew the many things he encountered in this newly discovered culture. Anno was fascinated by everything, from Europe's landscape and its people to its architecture, art and literature, and in Anno's Journey, a pen and ink and watercolour wordless book, he synthesises his experiences in pictures. He says: 'I wandered from town to town, country to country and sometimes my journey was hard, but it is at just such times that the reward comes. When a man loses his way, he often finds himself – or some unlooked for treasure.'
Many of these 'treasures' can be found in Anno's Journey (often given a special Anno twist). Read by a child, this book may appear to be solely about following the little man on horseback, who can be seen riding through country and town until he disappears over the horizon at the end. Read by an adult though, especially one who is familiar with Western culture, it can be a game of recognition of all the many references to European works of art, literature, music and folktale. Van Gogh's Bridge at Arles, with Seurat's La Grande Jatte next to it, is there. So is Millet's Les Glaneuses. Cervantes' Don Quixote can be spotted tilting at a windmill, while Red Riding Hood, watched by an alert wolf, is seen straying from the path to pick flowers. The Pied Piper leads a line of children through the square, and there's another long line of people busy pulling up The Enormous Turnip. Notes of Beethoven's Ninth Symphony also appear above a music shop window.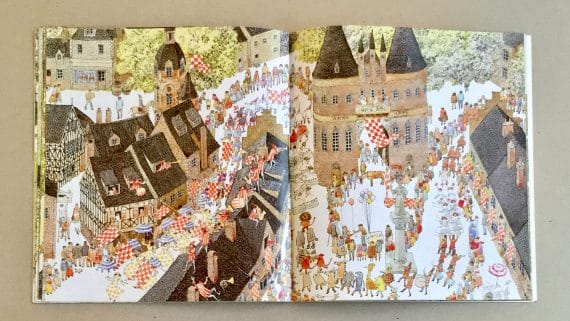 These are only a few of the cultural references to be found in the book. There are many more ordinary things to spot too – for instance the various occupations of the grown-ups, the different games of the children, and the variety of visual shop signs. You could also search for the family who is moving house (and arriving in a new one), follow a race, spy on a wedding, track a floating balloon, or spot a prisoner escaping. You could even find a naked woman bathing in an outdoor tub and the naughty boy who is climbing a ladder for a sneak peek.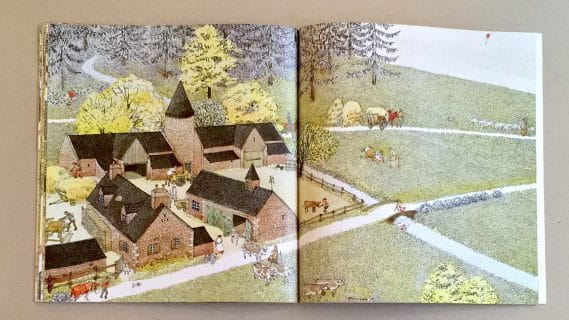 In fact there is so much to see in this complex, delightful book that it's possible to come back to it regularly and discover something fresh each time. Anno's Journey is like a visual introduction to many of the good bits of European history and culture that also works as a simple (or not so simple) picturebook for young children. Reading these immensely detailed images can make your head spin, but your efforts will be amply rewarded.