Another
Christian Robinson
Have you ever tried imagining an alternate reality? Or invented a parallel life for yourself?
Many of us do, dreaming up different scenarios in our mind's eye and asking endless 'What if…?' questions. It's a way of playing with the world as we experience it and imagining how it could be if things were even slightly different.
Another offers a visual interpretation of this creative process in a way that is approachable for children. This playful book allows them to explore a challenging abstract concept while still following a clear and entertaining storyline.
The publisher's summary describes the book as one where 'a young girl and her cat take an imaginative journey into another world'. And that's exactly what happens.
They're led into this other world by a cat with a blue collar, who sneaks into the girl's bedroom one night to steal a toy red mouse.
This attracts the attention of the 'real' cat snoozing on the girl's bed, who is wearing a red collar. He is intrigued by his mirror-image rival feline. So when Blue Collar disappears back through the mysterious white hole that has suddenly appeared in the wall of the room, Red Collar follows him, determined to retrieve the toy mouse.
Woken by all this activity, the girl also follows the two cats through the white hole. And so the adventure in a new world begins.
The fictional device of the hole echoes portals in other children's stories, such as the rabbit hole that Alice falls down in Lewis Carroll's Alice's Adventures in Wonderland (1865) and the wardrobe through which Lucy enters Narnia in C. S. Lewis's The Lion, the Witch and the Wardrobe (1950).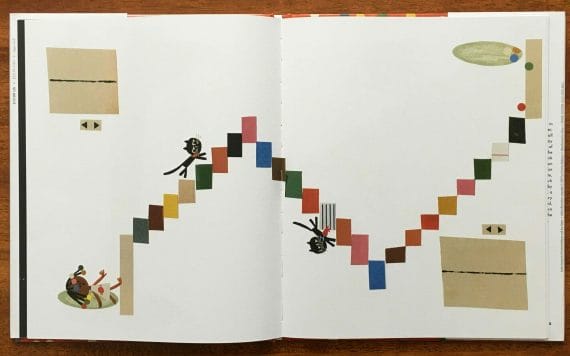 The girl chases after Red Collar, while he chases after Blue Collar.
Up and down stairs they go, sometimes one way up sometimes a different way, sliding down a hillside of dots, climbing through more holes, travelling along a conveyor belt and discovering other children playing a variety of games.
The children themselves are as various as their games, with a diversity of skin tones and physical attributes, but they are all having great fun.
However, Red Collar is not distracted by all this activity. His mission is to retrieve the stolen toy mouse.
Eventually Red Collar spots Blue Collar.
With him is another mirror character, a girl who is almost the same as the 'real' one only her dress has a blue pattern on it rather than a red one.
The two sets of girl-and-cat get to know each other and make friends, until finally Blue Collar gives back the disputed toy mouse. Then both sets say their goodbyes and return home.
The story ends back in the girl's bedroom. She has settled happily back to sleep, but Red Collar is keeping a firm hold on the toy mouse. What he doesn't know, though, is that under the bed is a pesky blue toy mouse. Could the adventure be about to begin all over again?
The deceptively simple illustrations, which are mostly set against a plain white background, were created in paint and collage and then digitally edited. They are both expressive and joyful and should appeal to the curious reader, who may want to turn the book in different directions to see the images from different angles – just as the story shows the fictional world from different perspectives.
Christian Robinson studied animation at the California Institute of the Arts and, before becoming a children's book illustrator, worked with Sesame Street Workshop and Pixar Animation Studios. Another was named a New York Times Best Illustrated Book of 2019.