A bluebird is about to build her nest in the forest when she sees two men cutting down trees. As her nest takes shape, she observes how these trees are being used to construct a strange new building.
The building consists of a series of cages, each containing a colourful but trapped and desperate parrot. These are piled up in a circular form to create a sort of crazy wildlife bird 'palace'. The builders, mostly shown in black-and-white, wear a sort of early Victorian costume with stovepipe hats.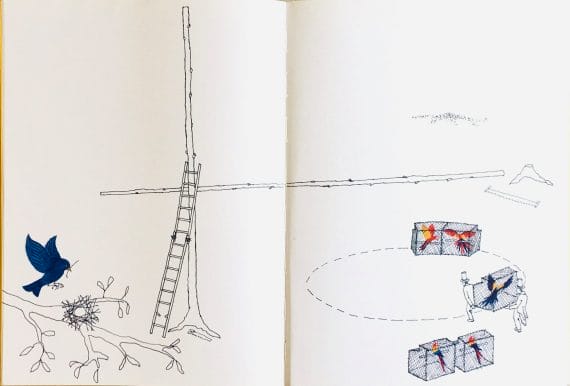 As the palace nears completion, it is topped with a large dome. The two men open a bottle of champagne and go into the building to admire their handiwork. Meanwhile the observant little bluebird, who by now has laid two eggs, is curious. She flies to the dome and lands on its pinnacle.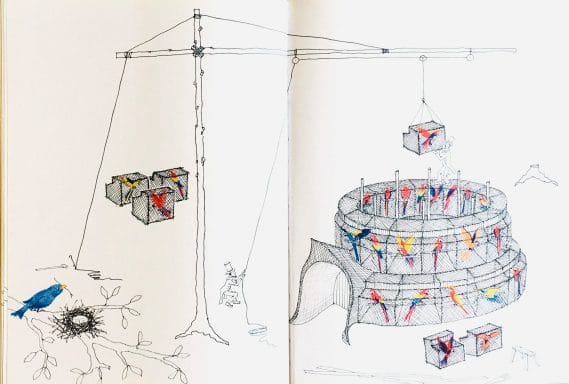 The bluebird's weight subtly alters the physics of the building. First it shudders, then it collapses. In the final image (not shown here) the parrots are freed and the men meet their just deserts.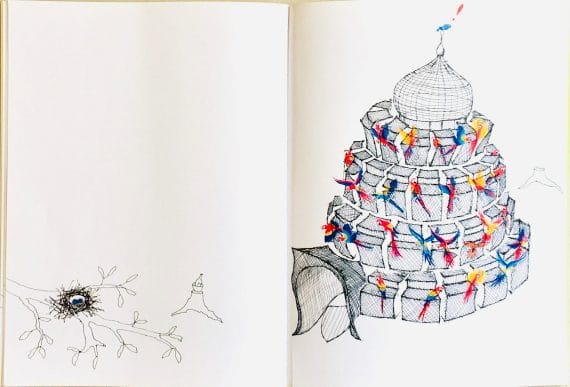 This is quite a dark story of destruction and cruelty, but thankfully – and satisfyingly – all ends well. The focus is on crisp line drawing and colour is used only sparingly, principally on the parrots and the bluebird.
The ultimate theme of this story is freedom, and children are likely to get a sense of justice being seen to be done. There is also a very strong moral message of 'Do as you would be done by'.