After Raymond Briggs' The Snowman, Clown is one of the most well-known British wordless books. Told entirely in pictures, it depicts the adventures of Clown after he, and several other soft toys, have been ruthlessly thrown into a dustbin after a clear-out.
Not content to be a 'has-been', Clown quickly climbs out of the bin, dusts himself down and sets off to find a new life for himself and his friends. On his journey he survives threatening encounters with a snooty lady, a fierce dog and an aggressive thug. But, with a mix of luck and ingenuity, he soon endears himself to a new family and manages to rescue his abandoned friends in the process.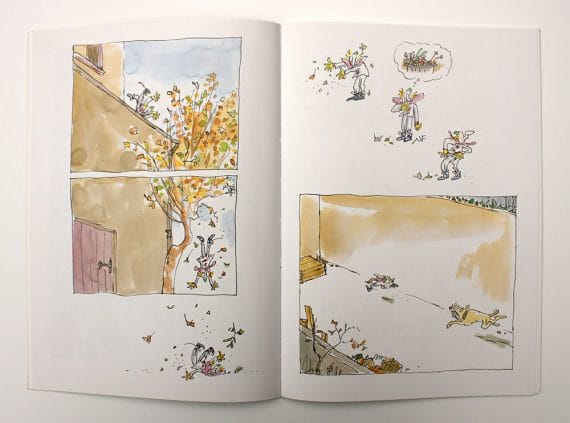 Not only is the plotting in this book beautifully paced, but also Quentin Blake's drawings are masterful. There is a tremendous physical energy to the illustrations. Clown – a plucky little toy – dashes through the streets at high speed, dodging disaster by kicking his legs in the air, balancing on his hands, juggling potatoes, sweeping the floor, laying the table and helping to make the bed. He also regularly, and somewhat unwillingly, flies through the air as various characters manhandle him. But he's seldom daunted, and it's clear he always has a fresh idea up his sleeve.
Where Blake really excels, though, is in the way he portrays emotions, both on his characters' faces and through their body language. With what seems like just a few strokes of his pen, we see bewilderment, fear and sadness transforming into happiness, joy and ultimately hope. This book is a real 'feel-good' story that appeals to both adults and children as it is packed with warmth, heart and plenty of humour. (Spot the friendly toddler being lifted off the ground by her walking reins, and the young mum's bashful blush as Clown ties a ribbon in her hair.)
Clown won the International Bologna Ragazzi Award in 1996, and Blake himself has won numerous other awards, including, in 2002, the Hans Christian Andersen Award for Illustration. He was also the first ever Children's Laureate, being appointed in 1999, and in 2013 he received a knighthood for 'services to illustration'.