Dandelion Year
Ron McTrusty
Scottish artist Ron McTrusty has illustrated several wordless non-fiction books about life cycles in nature, of which this is one. As its name suggests, it shows a series of images of a dandelion plant over a period of twelve months, from its first fluffy seeds drifting on the wind to the full golden bloom of its flower head.
Along the way we see the environment in which these particular seeds grow – a wooded hillside populated with animals, birds, insects and worms.
The seasons are indicated by changes in the landscape and the trees. Autumn is indicated by the oak trees' falling leaves; winter by snow; spring by tiny buds, and summer by the trees' abundance of fresh green leaves. There are many interesting things to spot, too, such as animal footprints in the snow and a cross-section of a mole's tunnel.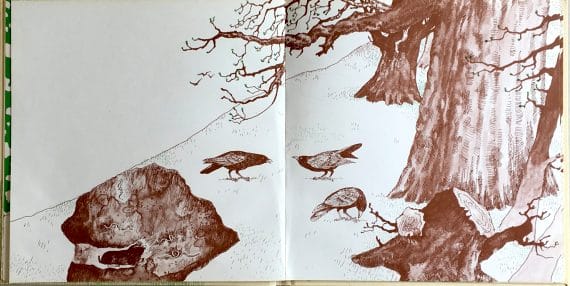 There are crows, a hedgehog, a squirrel, a fox, a rabbit, a ladybird and…
…that all-important pollinating bee!
As the sun gains strength in the first half of the year we see the new plant responding to its warmth, and when the dandelion eventually blooms the resplendent glow of the sun is echoed in its flowers.
This small, unassuming book does its job beautifully, showing how one familiar and often overlooked plant reproduces itself during the course of a year.
Other wordless non-fiction titles by Ron McTrusty include Rabbits (1976) and Swans (1977).