Dog On A Digger, The Tricky Incident
Kate Prendergast
Many young children enjoy watching construction vehicles at work, and many also enjoy stories about dogs. So put the two together in a story of a heroic big dog rescuing an inquisitive little dog with the help of a digger and it's a winning formula.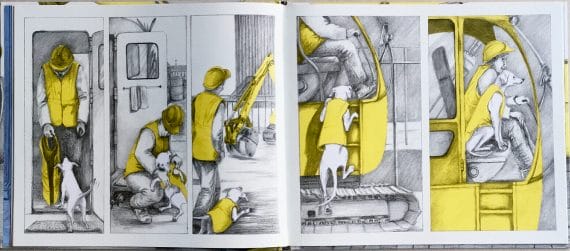 There is a convincing sense of character in both the people and the animals, and their expressions are believable and affecting. It's all very emotional, too, as the resourceful and loyal Dog of the title has to alert the distracted humans to the fact that the little dog has gone missing and is potentially in danger.
The quality of the drawing is high, and the black-and-white pencil illustrations are enhanced by splashes of yellow and blue. The observation of small, individual details is sharp and contributes to a strong sense of place. The story also has considerable pace and movement, as can be seen on the spread where the digger is in motion hurling a load of rocks into a truck.
The layout varies from spread to spread, changing from large full-bleed images to series of horizontal, vertical and square panels. When the action gets particularly dramatic, the number of panels also increases; but when there is a period of calm, an image may take up a full page.
Throughout the book there is a powerful sense of companionship, both between the humans and their dogs, Dog and his canine friend, and ultimately between the two humans themselves. All are involved in a shared enterprise, which fortunately has a happy outcome – with the digger playing an important role in the rescue!
This delightful book has an earlier companion title, Dog on a Train, The Special Delivery, which was Prendergast's debut wordless book.