Flora and the Flamingo
Molly Idle
This upliftingly pink wordless book is about a child mastering a new skill – perhaps best described as water ballet.
The little girl, who's dressed in a bathing costume, swim hat and flippers, is Flora. Her teacher is a beautiful but distinctly aloof flamingo.
Both are shown against a white background with delicate pink blossom above and alongside them.
The impromptu lesson begins when Flora starts to copy the flamingo's elegant movements. First the bird stands on one leg, so Flora does too.
Next the flamingo opens out her wings and lifts her left leg off the ground. In imitation, Flora also stretches out her arms and lifts her left leg, though not quite as high as her teacher's.
Then, looking quizzically at the girl out of the corner of her eye, the flamingo stretches her left leg gracefully behind her in a long straight line. It's almost as if she is saying, 'I bet you can't do that!' But again, Flora does her level best to copy her.
So it continues, with some moves proving successful, others not so much. When Flora  has a setback the flamingo's attitude softens and she begins actively to help the young girl, taking her hand and showing her how to do the moves correctly.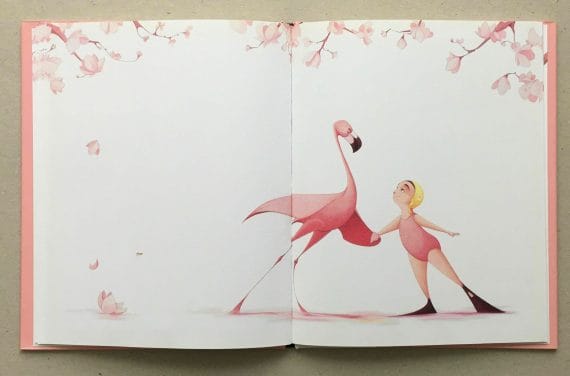 Soon they are performing a complicated duet together and both are thoroughly enjoying themselves. They are no longer student and teacher, they are friends and partners, dancing for the pure joy of it.
One of the fun aspects of this book is the fold-down flaps (on certain pages) that show the pair's changing relationship. The double gatefold at the back of the book also makes for a very expansive and satisfying finale.
Flora and the Flamingo won a Caldecott Honor award in 2014 and other Flora books followed.
Molly Idle started work as an artist at DreamWorks Feature Animation in California but now lives in Arizona. She is also the illustrator and author of other children's picturebooks, including the Rex series and Witch Hazel.