Full Moon Soup
Alastair Graham
Alastair Graham brings some joyful, anarchic madness into play in the wordless picturebook Full Moon Soup. During the course of one moonlit night, a seemingly respectable hotel descends into chaos. How? Because the moon is full – and according to legend, crazy things can happen at that time.
The craziness in this wonderful riot of a book is high octane. Not only are there are ghosts, vampires, mummies and aliens, all causing their own particular type of mayhem, but there's also the eponymous Full Moon Soup, a sludgy green concoction that appears to set off even more trouble as those who taste it turn into werewolves.
The book consists of 12 spreads, each a cross-section of the four-storey Hotel Splendide. On the left of the hotel is a winding country road, and on the right is a river, spanned by a bridge, with a town on the other side.
The viewpoint in all 12 spreads remains consistent – but everything else in these immensely detailed images changes with each new version. Even the opening spread, which shows an apparently normal hotel, has hints of strangeness. The clock has no hands, and down in the kitchen the dodgy green soup is already spilling over and dripping onto the floor as the chef unwisely takes his first sip.
Bit by bit, the disasters begin to pile up until, among many other wild and whacky things, a spaceship crashes into the roof, Dracula emerges from a casket in the cellar, sheep invade the hotel, and a torrent of icy cold water pours from the fridge, complete with a polar bear and surfing Eskimo.
There are multiple storylines and so much going on on every page that you hardly know where to look – the fun is in trying to spot the developments from spread to spread. The visual characterisation is impressive and distinctive. There is a sense of each individual having a backstory, and in fact this is the case. Although Full Moon Soup is a wordless narrative, if you look at images of it on Graham's own website you can click onto characters to find out their names, occupations and details. This may sound a bit obsessive but this is the sort of complex work that invites the reader to delve right in and discover as much as possible.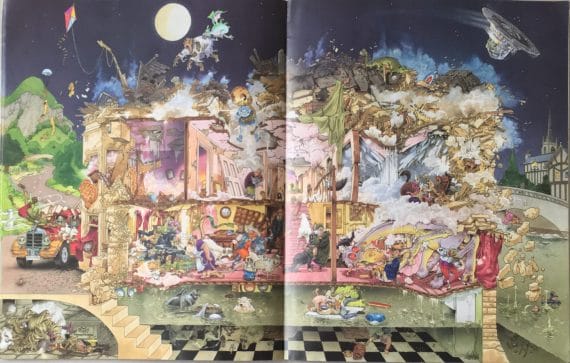 Indeed this book – a work of fantastic imagination that bubbles with exuberant energy – almost has the feel of a film. And Alaistair Graham does in fact make animations, such as Suba, as well as music CD covers and affectionate portraits of jazz musicians, which can be seen in his Impressions collection. But if your appetite has been whetted for another serving of wordless pandemonium, check out Full Moon Soup's companion volume, Full Moon Afloat.