This isn't actually a wordless picturebook. Rather it's a fold-out height chart, in the shape of a tall building, to measure your child's growth.
However, Hoch Hinaus is worthy of inclusion here because the eight separate illustrations of the chart do create a sequential wordless narrative. The centimetre measure, set against a white background, runs along the far right-hand side of every picture.
Tom Schamp is a Belgian artist who describes his style as 'complex-naive' with a touch of humour. His illustrations in this chart are wonderfully surreal and entertaining – just as you think you've seen something you recognise, you do a double take and see something completely different. For instance the black cat below has what you instinctively think is a pink nose, but when you look closely it turns out to be a champagne glass with a little bird flying out.
The story starts on the ground floor of the building, which has an open door and stairs to the right. In the doorway we see a girl dressed in a red cloak, reminiscent of Red Riding Hood, and a boy dressed in a leopard-print onesie. She is holding an empty basket and he has a letter in his hand. Leading the way ahead is a lively white rabbit.
To the left of the stairway is the shop – and what a shop it is! Entitled Talking Hats, it displays a selection of hats and other strange objects, including a coffeepot that looks like a cat, that are packed with potential stories.
But, although fascinating, it's not the shop window that is the focus of the children's attention. It's the floors above, each of which they visit as they climb the stairs, either to deliver a letter or to collect objects to put in their basket.
The residents on each floor are an odd bunch. On the first floor a girl and a lion sit in a sports car while an electric fan blows their hair behind them. Above them is a mermaid is taking a bath while a sailor sprays water over her head. Up another storey and a couple with teacups on their heads play chess; and up once more a man waters an indoor tree alongside a deer who nibbles its leaves.
The fifth floor houses an enormous black cat, who is lapping a bowl of milk given to it by the 'leopard' boy. This cat appears to have trees growing in its fur, with birds nesting in the branches. The window curtains are hung on giant safety pins and on the wall is a Magritte-like painting of a bowler hat.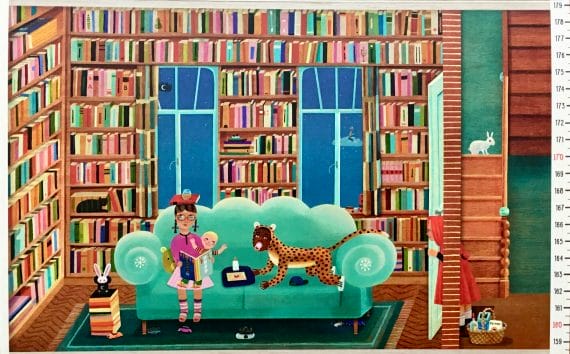 The next floor is a library with a girl sitting on a sofa reading a book to a baby. It appears comparatively normal until you notice a man sailing by on a cloud outside the window. The boy delivers another letter and also cheekily borrows the baby's dummy, much to the amusement of the baby.
But what are all those letters about? Well, they're invitations to a party on the top floor, where we see all the residents, including the deer (but not the huge black cat) sitting around a big table. And the objects in the basket? They're ingredients for the feast everyone is about to share!
As a child takes a while to grow, height charts tends to be around for several years. Luckily the pictures in this one offer so much room for interpretation that there should be new stories to tell even when the child has outgrown the measure. Oh, and don't forget to spot the tiny white mouse in every picture!