Eric Carle's I See A Song is a wordless picturebook that uses visual images to celebrate the transformational power of music. In this regard it shares a similar aim with Laëtitia Devernay's The Conductor, published 37 years later in 2010. However, rather than an orchestral conductor, as in Devernay's book, the musician here is a lone violinist. In five short lines of text shown before the title page, this violinist, drawn initially in simple black and white, invites the reader to join in his vision with their own personal interpretation of the notes he will play. He states: 'I see a song. I paint music. I hear colour… Come, listen, and let your imagination see your own song.'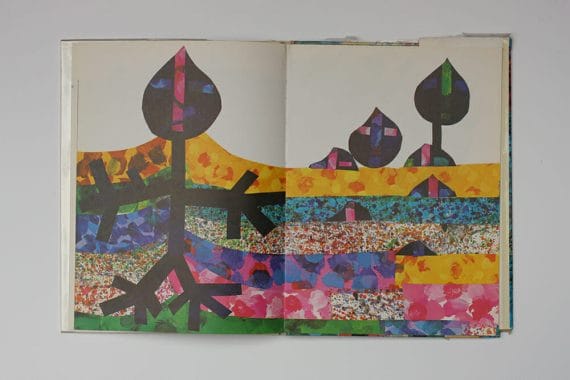 Music is intrinsic to Carle's work. In his playful recipe on How To Make a Picture Book in The Art of Eric Carle, a portrait of the artist's life, one of his instructions is that: 'The music should rise and fall, flow and come to an end with a crescendo or, if you feel like it, the sofest bow of the violin. Then you hope for an echo.
'Seeing' music and 'hearing' colour may sound like an impossibility, but when you consider the emotional punch that music can give it makes complete sense. And, like music, colour has always had an emotional connection for Eric Carle, as right from early childhood he associated it with happiness. In The Art of Eric Carle, he says: 'In 1935 I started school in Syracuse, New York. I remember vividly a sun-filled room, large sheets of paper, colourful paints and fat brushes.'
In fact, as his family returned to its native Germany in the mid-thirties, the bulk of Carle's education took place in war-torn Stuttgart. But he always retained fond memories of his early schooldays and in 1952 he returned to the States, where he got a job in the art department of The New York Times. However, it wasn't until he was 38 that his first children's book, Brown Bear, Brown Bear, What Do You See? (1967), written by Bill Martin Jr, was published. The work for which he is most famous, The Very Hungry Caterpillar (1969), followed two years later.
From the first multi-coloured notes that waft from the violinist's coal-black instrument, I See A Song challenges the reader to interpret a series of stunning, semi-abstract, illustrations. Featuring Carle's trademark tissue-paper collages, a giant moon and sun are plain to see, as are the ocean and its fish. But a tear from an enormous face could be either a raindrop or a seed, and from it emerges either a person or a flowerhead that, in turn, bursts into colourful petals that also double-up as notes from the violin.
Like music, these images are open to personal interpretation – what we see in them is what we choose to see. The final few illustrations show the formerly monochrome musician now saturated with a wide variety of shades, from his hairs on his head to the shoes on his feet. The music he's played has literally filled him with joyous, life-affirming, emotional colour.