This book was inspired by a real-life event. When the author visited an art gallery for the first time he found the experience emotionally overwhelming. Seeing actual paintings rather than reproductions affected him deeply and stimulated his imagination.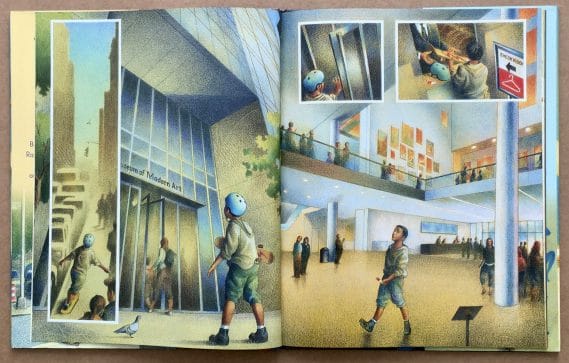 The story here shows this happening to a carefree young boy. In the opening pages we see him skateboarding into New York city to visit the Museum of Modern Art. Clearly he likes to draw, as peeping out of his back pocket is a pack of chalks.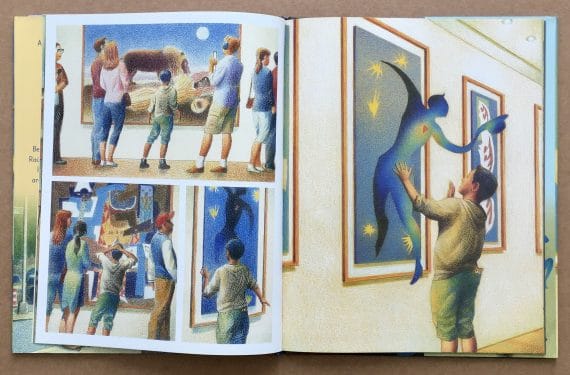 As the boy explores the gallery he sees pictures such as Pablo Picasso's Three Musicians, Henri Rousseau's The Sleeping Gypsy and Henri Matisse's Icarus. In the Author's Note, Colón says he chose those pictures because they 'all have interesting characters, movement, color, and a sense of whimsy that would go well with the adventure the boy is about to enjoy'.
While the boy is admiring Icarus, the bendy blue figure steps out of the frame and joins the child in the gallery. The two of them dance along the aisles and soon the musicians in Picasso's painting and the lion and gypsy from Rousseau's have joined them.
Now a merry band of eight – including a dog from Three Musicians – they leave the museum to explore the city. They go on a train, take a rollercoaster ride, visit the statue of Liberty and enjoy a singing session in the park.
Finally they get a cab back to the museum, where the characters return to their paintings. The boy skateboards home, but on the way he's inspired to use his back-pocket chalks to sketch all he has seen onto an empty wall. That night he dreams of his new fantasy friends.
The idea of figures in paintings coming alive and being your companions is an exciting one. It invites readers to choose their own favourite figures in pictures and imagine adventures with them.
It may also encourage them to copy the works of famous artists, as Colón did himself when a boy. (A note explains that he did not visit a gallery until he was an adult.) Certainly this book shows the artist's close affinity with the characters he portrays, as he animates them brilliantly while retaining their inherent characteristics. 
There are fun things to spot in this book. For instance in one spread there is a poster for another Colón title, Draw!. In the park scene there are several visual jokes, including the gypsy and the pierrot swapping instruments, the lion playing with balloons and the dog blowing bubbles. Young children are likely to recognise these activities and appreciate the humour.
Raúl Colón is an award-winning artist. He has illustrated several highly acclaimed picturebooks, including two New York Times Best Illustrated Children's Books: My Mama Had a Dancing Heart and Draw!. In this book (a Paula Wiseman title) his illustrations were rendered in 'watercolors, Prismacolor pencils, and lithograph pencils on Arches paper'. 
Colón's colours are rich, with some pages infused with vivid orange or deep indigo, and he conveys a sense of infectious fun and lively movement with his fluidly expressive line. The author says he hopes his book will encourage readers to visit a gallery or museum themselves, so that their minds will 'explode and fireworks will go off and floodgates will open, creating sparks that lead them to their own revelations like mine did'. An ambitious aim for a fine book that will appeal across a wide age range.