Konrad Wimmel ist da!
Jan von Holleben
This wimmelbook, or search-and-find story, is unusual in that it uses photographs rather than illustrations to depict its multiple characters.
Over several weeks, Jan von Holleben took more than 2,500 photographs of 250 schoolchildren, shot from above while they lay arranged in tableaux on the ground. He then used these photos to create a series of pictures on themes such as school, the park, the road and the zoo, with each theme having two variations: one seen from a distance and the other close up.
As well as spotting Konrad and his friends in each big picture, you can also enjoy looking at all the many and varied activities the children are doing.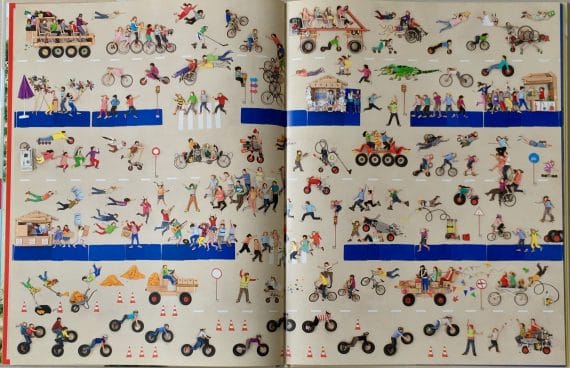 There's just as much fun to be had in figuring out how Von Holleben made each ingenious picture by cleverly placing bits of pipe, fabric, rope, wood and other objects – as well as the children themselves – to create a recognisable scene.
It's an extraordinary and inventive achievement that's just fizzing with joyful energy.