Kunst für Max (My Museum)
Joanne Liu
As anyone who has ever taken a young child to an art gallery or museum will know, kids tend to experience exhibitions in a very different way to adults. Unlike grown-ups, they are generally uninterested in spending time pondering over an artwork, reading captions, or following gallery floor plans. That's not to say, though, that children don't benefit from visiting such places. They do.
Max, the protagonist of this story, finds the gallery he is visiting very interesting. For a start he is fascinated by the other visitors – while they stare at the pictures, he stares at them. Then he meets an interesting lady mopping the floor, sees a man with tattoos all down one arm, and plays peek-a-boo with a baby through a hole in the middle of a sculpture. That's all in addition to seeing the world upsidedown by hanging over the side of a bench, drawing a star with his finger on some glass, and creating a giant shadow by leaning over to one side in front of a large window.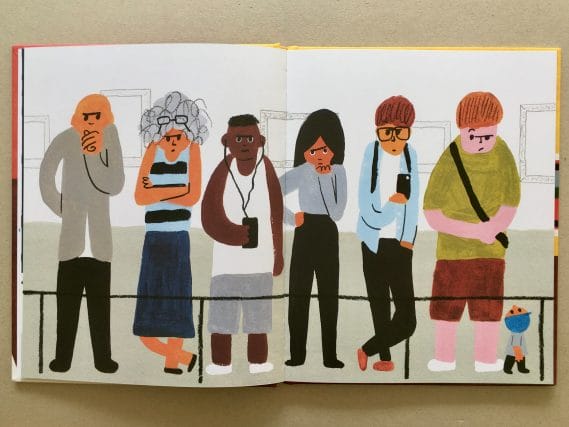 From these activities it might be tempting to assume that Max isn't taking any notice of the art – but that isn't the case. In fact he's absorbing plenty as he moves through the various rooms of the gallery. For instance the star he draws on the window is remarkably similar to the star in the Joan Miró painting behind him, the tattoos he is intrigued by echo the pattern on a ceramic vase, and the enormous shadow he makes on the floor mirrors other works in the Henri Matisse room.
This book, by Hong Kong-based illustrator Joanne Liu, is beautifully observed and works on several levels. Children will simply enjoy following Max's journey through the gallery and working out what he is actually doing, while adults will appreciate the subtle interplay between the boy's actions and the artworks on display. And when Max eventually rejoins his mum outdoors both he and we become acutely aware of the richness of the outside world, with its vivid colours and patterns. Art, the book seems to suggest, can be found all around.
Kunst für Max (My Museum) is a great way to introduce children to some outstanding artists. As well as those mentioned above, Pablo Picasso, Claude Monet, Alexander Calder, Piet Mondrian, Mark Rothko and Henry Moore are all featured here (as well as Johannes Vermeer with his Girl with a Pearl Earring). Seeing images of artists' work within a picturebook can help children to become familiar with different artistic styles – so that when, or if, they eventually see the paintings or sculptures in real life they can have the pleasure of recognising them. In fact after reading this book they might even feel like old friends.