Mein Wimmelbuch: Frühling, Sommer, Herbst und Winter
Ali Mitgutsch
The German illustrator Alfons 'Ali' Mitgutsch (1935-2022) was known as the father of the 'wimmelbuch' – a large-format wordless picturebook for children, full of busy tableaux. These types of books are also sometimes know as 'hidden picture' books, as each scene offers many different things to spot and discover.
This type of highly detailed work can be seen in earlier artists, such as Hieronymus Bosch and Pieter Bruegel the Elder, though their paintings are obviously not for children and do not have sequential narratives.  And there are many other examples in children's literature, including in the works of Richard Scarry, Rotraut Susanne Berner and Martin Hansford, of Where's Wally? fame.
Although he had illustrated other children's books earlier, Mitgutsch's first success in the wimmelbuch format was Rundherum in Meiner Stadt (1968), which won the prestigious Deutscher Jugendliteraturpreis the following year.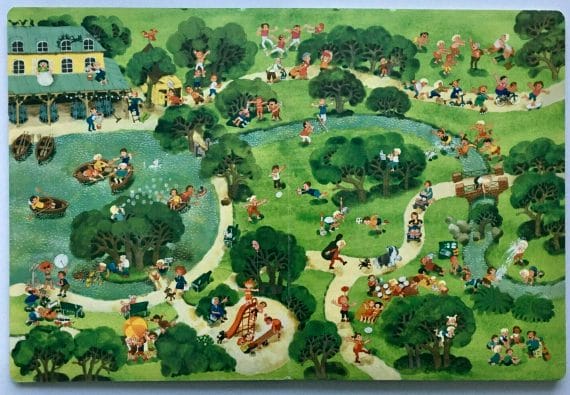 Mein Wimmelbuch: Frühling, Sommer, Herbst und Winter focuses on the four seasons – spring, summer, autumn and winter – over the course of a year in one large park. In every spread there is a little girl with a pink balloon to spot, as well as a speedy black dog.
Mitgutsch often described his books as 'self-narrating picture books' and in his books there are always a large number of potential stories to discover.
Hidden amid the lush green grass and trees of the summer picture above are many people and animals. In the lake on the left, people row boats or watch a boy blow bubbles from the top of a nearby tree. Families picnic, children play and mums with babies in prams wander along the paths.
A variety of activities and games can be seen, including football, bike riding, tree climbing and plate spinning. One lady in a blue bikini is even taking part in a fashion shoot, while a boy is fishing over the bridge. And over on the far left we can see a string of lights being strung up across the cafe veranda that, in the following night-time scene, we see lit up.
In the picture above we see the park in early autumn. The leaves have changed colour and fruit is being collected from the trees in baskets. The wind is blowing strongly enough now for kites to be flown through the air – or, in one case, to get caught in a tree.
Down in the bottom right older people are out jogging, and in the centre three children sail a boat on the stream. There is also a blind person collecting money in a hat, a monocyclist holding a flag and someone practising accordion under a tree.
By late autumn the wind is stormy and leaves are blowing off the trees in a gale, with one tree even being uprooted. Newspapers and paper cups are tossed in the air, cyclists use sails to make their bikes go faster, umbrellas fly away and hats are blown off heads.
In the top left, a girl has tripped over and all the contents of her schoolbag are scattered around. Even the tea hut has blown over.
By the final winter scene the park is calmer, but no less busy. The bare trees are thick with snow and most people are huddled up in coats, hats and gloves. Skaters glide around the pond, and on the right a rather alarming hole has appeared in the ice, with an ambulance parked beside it.
Other people build igloos and snow animals. These are fun to spot and there is at least a snow snake, bear, elephant, giraffe, and even a mummy duck with her ducklings – perhaps a reminder that spring will follow shortly and the year will come full circle.
With its packed illustrations, full of incident and wit, Ali Mitgutsch's Mein Wimmelbuch: Frühling, Sommer, Herbst und Winter is a wonderful book to pore over and enjoy, whether or not you have a child to share it with.
For more info on Ali Mitgutsch, see his memoir, co-written with Ingmar Gregorzewski, Herzanzünder: Mein Leben als Kind (2015)