This powerful wordless book, whose original Spanish title was Migrantes, finds a fresh way to look at the challenging experiences of migration.
The characters 'on the road' are anthropomorphised animals, who are united in their need to escape some unidentified terror. But, as with human migrants, danger is seldom far away. Death here is represented by a cloaked skeleton that haunts their journey through oppressive forest and across unpredictable choppy waters.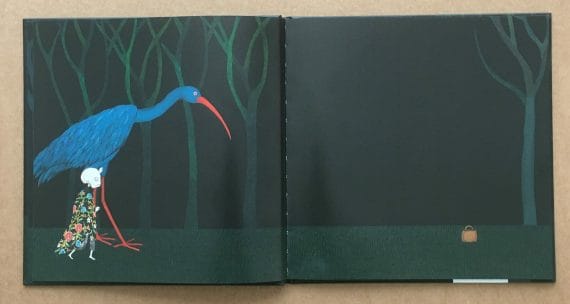 Death's companion is a blue bird. In a Q&A interview on Gecko Press Issa Watanabe explains that the bird is a blue ibis, which in many cultures represents 'the one who communicates between life and death, the past and the present.'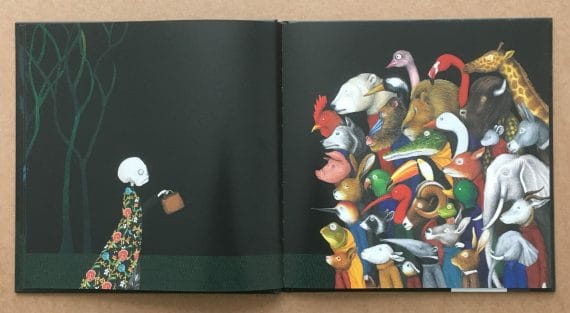 Often the animals are literally looking Death in the face. It is as if they are silently asking, 'Who will be next? Will it be me or my family?'
Using animals as characters helps to distance them from our own preconceptions of often stereotypical racial and ethnic identities. It gives them a universality that encourages our empathy. We do not judge these fictional creatures, as we might human ones.
Each animal is distinct. Different species are represented, of varying sizes and colours, and clothed in different outfits.  Old and young, tall and short, healthy and weak, all share a solemn determination to survive.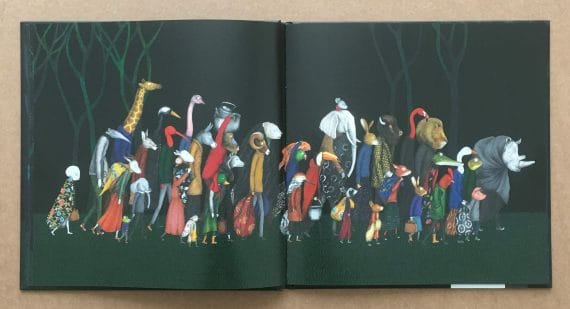 The exquisite illustrations form what is effectively a continuous frieze, appropriately echoing the linear nature of the journey.
The animals are shown in colour against a dark background. This not only gives the book its distinctive look, but also serves a literary purpose, as Issa Watanabe explains. 'I wanted to show the contrast between life and the sadness and difficulty of the journey. Colour expresses hope. Darkness is more like silence.'
Although each animal is an individual, together they show a range of emotions we can recognise, such as anxiety, fear and hope.
All the members of the group display courage and resilience, and regularly help each other out. Food is cooked communally, clothes washing is shared and children are tenderly tucked up to sleep under blankets.
Losses are acknowledged and mourned together.
Issa Watanabe was born in Peru in 1980, the daughter of a poet and illustrator. She studied literature, fine arts and illustration. She also lived in Mallorca for 15 years before returning to her native Peru.
She has published several books and is involved in projects that aim to promote social integration through art. She was also selected for the Illustration Exhibition at the 2018 Bologna Book Fair.
When asked in the Gecko Press interview why she had chosen to tell this story without words, she said:
'When I think of a story, I always have a mental picture of a series of images… in this particular case, when you get closer to this theme… it moves you. My father, who was a poet, once wrote, "When faced with horror, all I can do is allow myself this silent poem." When you look at Migrants, you encounter this silence.'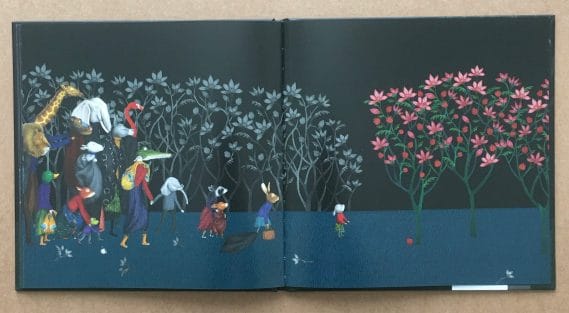 Migrants is a beautiful, moving book that is sure to provoke thoughtful discussion among those who read it together.
The sombre yet sumptuous illustrations deal with one of the most serious issues of our time. But, while they certainly conjure up images of desperate refugees, they also positively celebrate people's amazing resourcefulness. The desire to survive is strong in all of us.