Mouse Around
Pat Schories
An alert little mouse notices a drip from a drainpipe and reaches out to touch it. In doing so, he falls from the underground ledge where he and his family have been safely sleeping and enters on an adventure.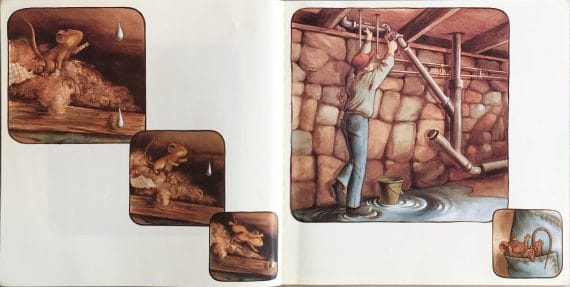 Initially he lands in a plumber's back pocket, but soon he escapes outside into the open air. First he explores a box of doughnuts in a family's kitchen, then he gets a bus ride into town and soon he visits a station concourse. Each time the mouse moves on to a new place he faces fresh danger, but fortunately he dodges all threats and eventually finds his way back to the safety of his family nest.
Schories' illustrations are shown in curved-edge panels that alternate between wide-view images and close-ups. In the close-ups we usually see the mouse clearly, but in the wider views he is often tiny, or only visible because his nose or tail can be glimpsed peeping out of a bag or box.
The circular journey the mouse makes is fun to follow and has its own logic. There are moments when you fear he is going to come to harm, such as when the dumper truck begins to crush the rubbish, but he always escapes and finds somewhere new to conceal himself. Amazingly, until almost the end of the story, no humans appear to notice him – although a ginger cat is much more on the case.
As well as focusing on the mouse's tale (forgive the pun), many of Schories' images imply other potential stories, too. For instance, who is the family having breakfast at home? Where is the man on the bus going? Why does the smart young woman have a suitcase? And what will happen to the young man who has crashed his car? Each of these mini dramas offers an insight into the human life depicted and opens opportunities for discussion, so the book works on a number of levels and is worth re-reading several times.
As well as a range of early readers about a puppy called Biscuit, Schories has created another series of wordless books featuring a dog called Jack. See Jack and the Night Visitors (2006) for an example.