Museum Trip
Barbara Lehman
On a school trip to a museum, a young boy accidentally gets separated from his classmates.
While searching for them he discovers a secret door that leads him into a room with a display case of maze maps.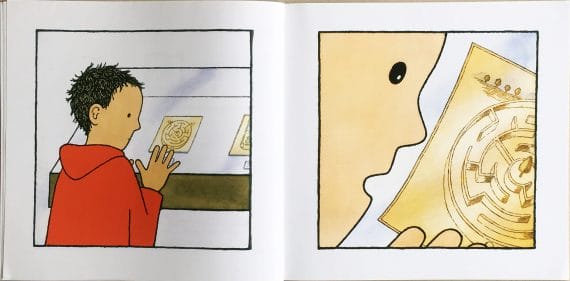 These mazes intrigue the child and, in the blink of an eye, he shrinks in size and finds himself right inside one of them. By careful deduction he finds his route to the centre, where he touches the tree planted there. Then he comes out again to begin on the next maze.
He does this repeatedly until he comes to the final maze, where the object at the centre is not a tree but a tower. The tower has a door, and the door a keyhole. The pictures zoom in until we, the readers, can see through this keyhole and glimpse the boy being presented with a gold medal.
Soon after, the boy returns to his normal size and runs out of the room to rejoin his school friends. Only as the class is leaving do we see that the museum curator has a similar gold medal. It is a like a secret bond between them.
Lehman's watercolour, gouache and ink illustrations tell this mysterious wordless story clearly and expressively, cleverly blurring the boundary between reality and imagination. Throughout the book it's fun to spot works of art by famous artists, such as Vincent van Gogh, Henri Rousseau, Picasso and Alexander Calder. An added bonus is that a child looking at this book could also share the experience of solving the mazes, as they are each printed large enough to trace the route with a finger.
See also The Red Book (2004), a Caldecott Honor Book; Rainstorm (2007); Trainstop (2008); The Secret Box (2011); and Red Again (2017). All by Barbara Lehman.