Shapes in Nature
Judy Feldman
This book from the early 1990s is basically a wordless non-fiction title for young children, even though each page has a short line of written text running along the bottom.
The concept behind the book is straightforward – that the natural world is full of graphic shapes. We just have to look for them.
Each page consists of three elements. First there's a heavy black outline of a shape, such as a triangle, spiral or crescent, shown on a white background at the top. Second there's a large photo of some aspect of the natural world that suggests this shape can also be found in nature. Third, there's the small-type credit mentioned before, which has information details and the photographer's copyright line.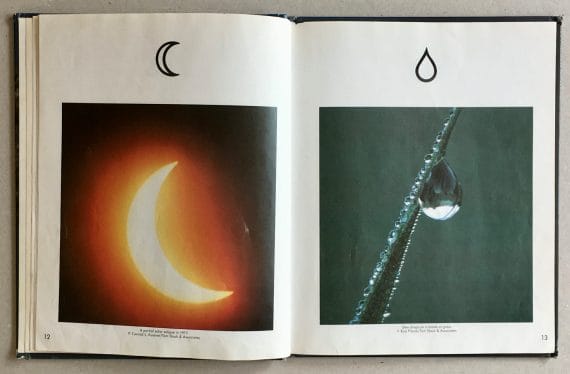 Some of the photos are expansive landscapes, such as a tall mountain reflected in a lake. Others are close-ups of individual items, such as a starfish, dandelion seed head, or dewdrop. Although the natural shapes aren't always exact matches with the outlines, they are close enough for young children to spot.
Presenting shapes to children in this photographic way is an interesting approach to the subject. Perhaps it helps them make better connections between flat drawings of shapes in a book and what they actually see around them. Or maybe it just provides a jumping-off point for discussions about places, plants and animals that encourages us all to look at the natural world in a new and different way.