The Scottish artist Ron McTrusty (1948-2021) produced several non-fiction wordless titles in the 1970s for the Books Without Words Series from British publisher Adam and Charles Black.
All these books feature lifecycles in nature. As well as this one, Swans (1977), McTrusty had previously created Dandelion Year (1974) and Rabbits (1976).
In the spread above we see the two parent swans – the cob and pen – preparing their nest in a quiet spot at the water's edge amid the long grass and rushes.
The male cob is contributing nesting material while the female pen is making a nest suitable for laying her eggs in.
After a few weeks the eggs arrive and are carefully incubated. But danger lurks close by and the eggs have to be defended from a fox before they can hatch safely.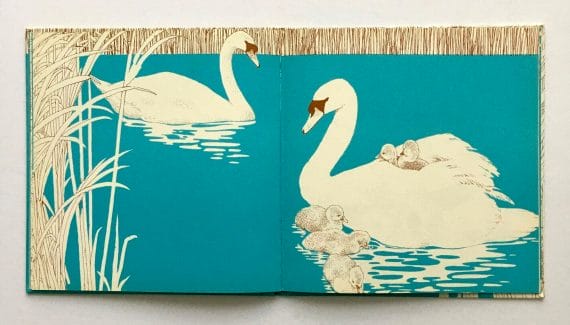 Once the five cygnets are ready, the parents introduce them to the water. A couple here have chosen to hitch a ride on a parent's back!
At first the cygnets' feathers are a brownish colour. It is not until they are a few months old that they gain the familiar white plumage of the adult swans. When this happens they are ready to leave their parents and begin their own lives.
McTrusty's illustrations are straightforward and easy for children to understand, with large, clear pencil drawings set against a vivid turquoise background. Additional wildlife details are shown on the title page, which includes other birds and insects, such as a dragonfly and butterfly, that share the swans' watery habitat.
This book, like McTrusty's other titles, is a great introduction to one of nature's many complex lifecycles. And the front and back endpapers of the two swans soaring into the sky really do lift the heart.