The Angel And The Soldier Boy
Peter Collington
This is a comic strip-style adventure tale that features miniature characters, including dastardly thieving pirates, a brave soldier and a heroic angel.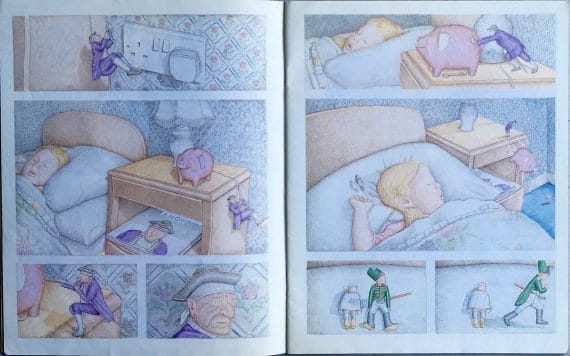 It begins with a normal-size girl finishing a story book called Treasure Ahoy, then falling asleep with two tiny toys of an angel and a soldier lying beside her on the pillow. When a miniature pirate appears to steal a pound coin from her money-box pig the Soldier Boy sets off to challenge him – but unfortunately the solider is quickly kidnapped.
Luckily the Angel has her wits about her and quickly heads off to find her friend and rescue him. Along the way she encounters various dangers, including a giant cat, a fearsome wasp and of course the pirates themselves.
Drawn in a clear representational style, this story races along with many moments of dramatic tension. The visual gaps between the images are well considered, so the story is easy to follow. And there are also some nifty solutions as to how the tiny characters negotiate what is, to them, a giant-size world.
The Angel and the Soldier Boy was made into a 30-minute animated movie, shown on television in December 1989. Peter Collington has written many other wordless books, including The Tooth Fairy, also shown on this site.