The Balcony
Melissa Castrillón
If ever a book radiated joy, this one does. The dust jacket alone shouts positivity, with its central image of a young girl beaming with delight and holding her arms wide open in a gesture of expansive happiness.
The story is about the unnamed girl, who has to leave her beloved countryside home and settle in a new city. Along the way she experiences the rollercoaster of emotions that accompanies such a change, from sadly waving goodbye to her friends to arriving in an unknown place.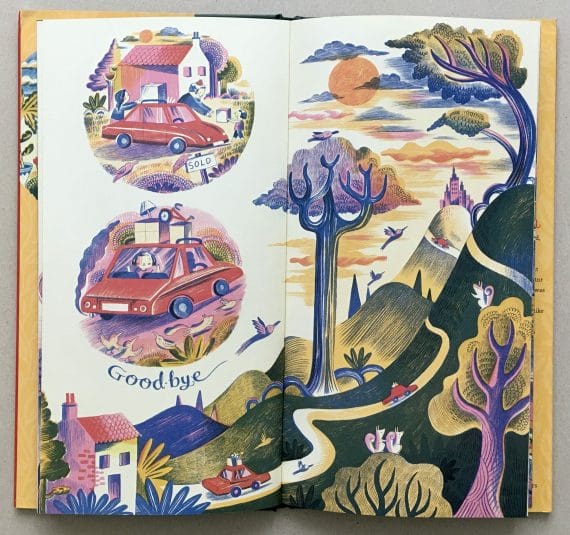 As she leaves, tears are shed by the girl's animal chums as well as by the girl herself. And both anxiety and apprehension are portrayed when she first sees her bleak new surroundings
Eventually hope comes in the form of a balcony, a plant pot and some packets of seeds. The plants that grow from these seeds not only help the girl begin to feel at home but also lead to her meeting another child. As the plants grow and multiply – and birds and animals arrive to assist in greening the environment – a new friendship blossoms alongside them.
This theme of greening the city is a popular one that is echoed in other wordless books, such as Alison Jay's Bee-&-Me and Jeannie Baker's Belonging, though both these artists approach the subject in a very different manner.
The illustrations, which have an attractive colour palette of pink, purply blue and yellow, were rendered in pencil and then coloured digitally. Incorporated into them are a few hand-lettered words, such as those within a letter, a label on a box, shop signs, and sometimes a single word that expresses the mood of the page, such as 'Hope' or 'Bloom'.
On the dust jacket of the book the girl is standing on a balcony that is literally overflowing with exotic, surreal plants, surrounded by equally exotic birds and even a tiny squirrel. This image is set against a rich red background with yellow lettering for the author credit and shiny gold-foiling for title. The surface of the paper is also embossed with the shapes of the plants, giving them a relief texture. This thoughtful book design is by Lizzy Bromley.
Underneath the dust jacket, on the cover of the actual hardback, is another reveal. A vivid green and gold illustration of yet more strange and bulbous plants, as well as bees, birds and squirrels. This picture, which is similar yet different to the one on the dust jacket, has a powerful impact because the contrast in colours between the two is so sharp and dramatic.
Even the endpapers are delightful. They show more curling plants, climbing from the bottom of the page to the top, this time illustrated in subtle shades of olive green.
The Balcony is a truly beautiful book with a theme that is particularly resonant. For during these challenging times of the 2020 coronavirus pandemic, many of us have felt the need to be closer to nature.