The Circus
Brian Wildsmith
Brian Wildsmith (1930-2016) was an influential British artist of the mid-twentieth century, particularly known for his use of vivid colour. He has illustrated several wordless books and won the Kate Greenaway Medal in 1962 for his first picturebook ABC – a title that broke new ground with its dramatic images and high quality printing.
In The Circus, Wildsmith combines his trademark strong colours with intricate pattern and stripes. The book opens and closes with two short sentences ('The circus comes to town…' and 'The circus goes away') but the rest of the richly detailed pages are wordless. Rather than a plot, they provide the reader with a series of visual tableaux of a big travelling circus as it might have been seen in Britain in the 1950s and 1960s.
There is a strong focus on the animals of the circus in this book, many of which feature prominently in an image of opening parade, particularly the leading elephant. Wild animals would still have been a common component of British circuses at this time, and Wildsmith's pictures include several exotic creatures. There are tigers and a lion roaring, brown bears riding bicycles, seals balancing balls on their noses and an elephant edging tentatively across a row of upright glass bottles. The animals' facial expressions, in particular their eyes, are at best non-committal and at worst unhappy or angry. Wildsmith's images, intentionally or not, reflect the emerging concern at the time about the welfare of these animals, and there is a subtle implication of the cruelty involved.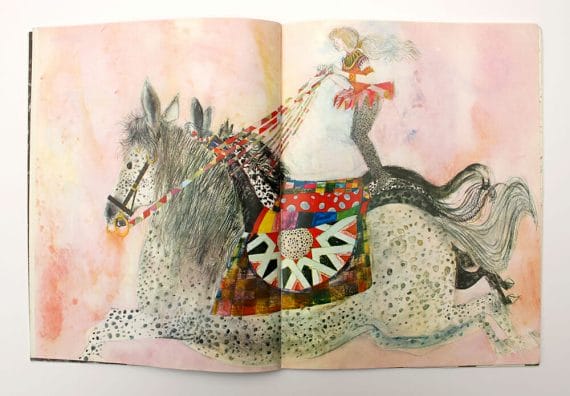 Plenty of domesticated animals appear in the book, too. As in many current circuses, we see horses, dogs and budgerigars. Here the horses are galloping three abreast, their flying tails mirroring the ponytail of the girl standing astride them; the little dogs are jumping through hoops; and the two budgerigars are balancing on a see-saw, their feathered breasts a beautiful intense blue.
The real thrill, though, comes from seeing the tricks performed by the human stars of the show. There are 'wondrous surprises for young and old' as clowns teeter on stilts or balance on their hands and jugglers toss balls into the air, or balance plates on their heads. A group of acrobats create an enormous human pyramid, and a tightrope walker rides a penny-farthing high in the air. And of course, overseeing the whole event – splendidly clad in red coat with bright yellow frogging, cuffs and epaulettes – is that circus essential, the ring master.
All in all, it's an impressive show, and one that's a popular theme within children's fiction. Several other wordless picturebooks also feature the circus, often in unusual ways, including Dr. Anno's Magical Midnight Circus (1972) by Mitsumasa Anno, The Entertainer by Michael Willhoite (1992), and Sidewalk Circus by Paul Fleischman and Kevin Hawkes (2004).