This is another slight divergence from the usual book entry but it deserves its place on this site for several reasons.
First, Enzo Mari (1932-2020) and his first wife Iela Mari (1931-2014) created a number of wordless books – together and separately – two of which are featured here: The Egg and the Chicken (1969) and The Tree (1973).
Second, this game is described by the publisher as a 'fairy tale book', because the images shown on the cards are all 'things that appear in classic fairy tales'.
And third the scenes depicted are word-free, enabling a child (or adult) to create their own 'texts' as they play.
The six cards, printed on both sides, provide 12 scenes that can be slotted together in any order of the player's choosing. Six scenes have a white background, four a tawny-orange background and two a black, nighttime, background.
Printed on the cards are elegant images of animals, plants and objects that are often found in fables and folk tales. There are 45 animals (including the deer and the lion shown here), eight trees, five stones, two eggs and one nest, as well as a sun and a moon and various other items such as an umbrella and a boot.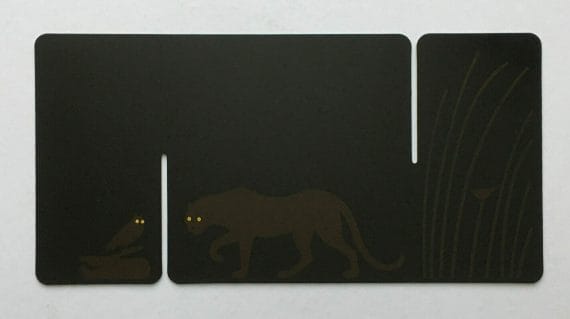 The cards slot together so, as you mix the coloured plates to create your own story, you build a 3D structure, a little like you might construct a 'house' from a pack of playing cards. (In fact the game has echoes of Charles and Ray Eames' celebrated House of Cards from 1952.)
Mari, who was a multi award-winning Italian artist and designer, called  The Fable Game a 'game without rules'. He also described it as, '…a compositional game; animals with animals, animals with plants, animals with stones, stones with animals…'
Whether you use it as a story-telling device or simply enjoy it as a construction activity, the game has the potential to appeal to a wide range of ages.
It is such a physically beautiful object, too, with its sturdy glossy cards, strong colours and vividly graphic images. A real pleasure to hold, play and create with.