The Grey Lady and the Strawberry Snatcher
Molly Bang
This book is both a story and a game. The story involves an elderly woman, with grey hair and dressed entirely in grey, buying a punnet of strawberries and taking them home to her family. The game involves spotting her on her journey, as her outline is effectively hidden against a greeny-grey background.
At the beginning of the story we see pictures of the woman buying the strawberries from a shopkeeper and setting off home. Behind her, though, is a lanky, blue-legged monster intent on stealing her fruit. He is the strawberry snatcher of the title.
Not only is he strange and blue, but his hands and feet are long and spindly, and mushrooms grow where he has walked.
Gradually the woman becomes aware of him and fortunately manages to escape by quickly climbing aboard a bus.
The danger is not over though, as the thief steals a skateboard from a passerby and follows the woman to the edge of a spooky forest.
Now the book becomes even more scary as first the woman, then the strawberry snatcher, enter the forest of dark, thorny trees.
She runs, he chases. She hides, he seeks. All the time her grey outfit disguises her effectively until at last she emerges safely at the far side of the forest.
Meanwhile, the strawberry thief has made a discovery. He's found a patch of bushes covered with blackberries – and suddenly he's not interested in the strawberries any more. Now he can gorge himself on the delicious black fruit and leave the woman to return home in peace.
The final spread shows the woman's family enjoying their fresh strawberries together in a happy family scene.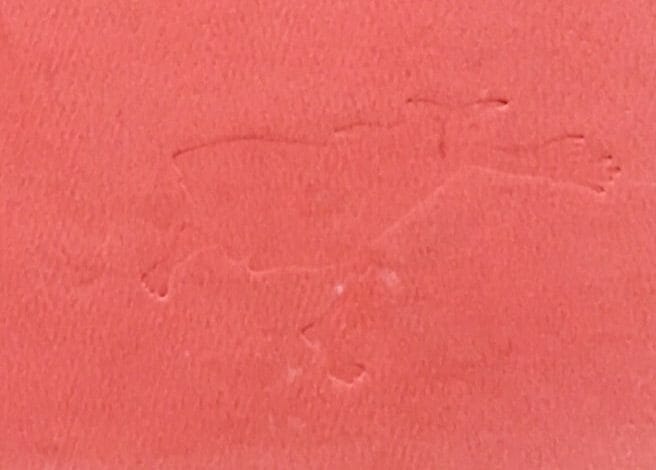 The Grey Lady and the Strawberry Snatcher was American artist Molly Bang's first book, although it took a while to get published and in the meantime she illustrated several other titles. In 1981 it won a Caldecott Honor, and subsequently Molly's won another Caldecott Honor and a Kate Greenaway commendation for the delightful bedtime rhyme Ten, Nine, Eight (1983). She won a third Caldecott Honor for When Sophie Gets Angry – Really, Really Angry (1999).
Molly Bang has also written an academic book on the way we perceive visual images. Called Picture This, How Pictures Work, it's a book that will fascinate anyone interested in picturebooks (wordless or otherwise) as it explains how the composition and elements of a picture can affect our perception of, and emotional engagement with, images. Originally published in 1991, Picture This was re-released in 2016 in a revised and expanded 25th anniversary edition.