The Spider Web
Julie Brinckloe
Anyone with arachnophobia should probably stop reading now… For this unassuming little book depicts the story of a spider weaving a web. This process, though a daily occurrence, is one that most of us seldom observe from beginning to end.
The spider in question is a female shamrock spider, a species of orb-weaver spiders that can be found throughout the USA and Canada.
Here, in sharp black-and-white line, we see the spider constructing her web, thread by silky thread. She starts at the top of some tall grass, drops down to a fallen leaf on the ground, then travels horizontally to and fro to secure the sticky strands to individual blades of grass.
We see her going up, down and across as she slowly builds her spectacular creation. Eventually we see the finished web, glittering like a large sparkling wheel (or indeed orb).
But this beautiful, delicate object is not destined to last for long. No sooner is it complete than disaster looms – in the form of a large lawn mower.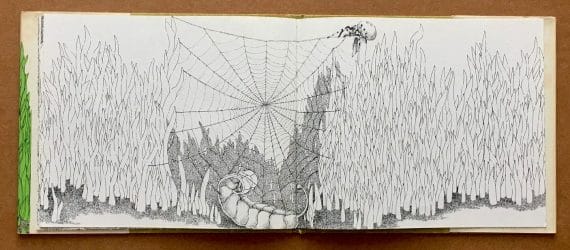 Although modest, this straightforward book by California-born artist Julie Brinckloe, has a certain magic about it. For it requires us to stop for a moment to think about an everyday 'miracle': how such an incredibly complex and intricate structure as a spider's web is actually made. The Spider Web reminds us that nature really is a thing of wonder.