The Wanderer
Peter Van den Ende
Turn the pages of this large-format wordless book – originally published in The Netherlands under the title Zwerveling – and you'll be drawn into a surreal and utterly fantastical world. Think Edward Gorey, Mervyn Peake or Shaun Tan as you see strange sea monsters looming from the undergrowth, creatures with luminous eyes and fish-tailed divers weeping torrents of tears from the eye sockets of their helmets. Nothing is ever explained, all is open to conjecture.
The rather surprising hero of this 96-page book is a little paper boat, created by what appears to be a human boy and a mysterious alien with a crescent moon running through his head. Despite its diminutive size and obvious frailty, the miniature boat leaves its home ship and embarks on a perilous journey across the ocean, setting out across the churning waves towards new lands and unknown dangers with brave determination.
This is Belgian artist Van den Ende's debut book, and when he's not drawing, he works as a nature guide in the Cayman Islands. His knowledge – and probably awe – of the sea is an obvious inspiration for this extraordinarily inventive and unusual book.
Van den Ende's black-and-white pen-and ink illustrations are highly intricate and deeply absorbing. They suck you into an undersea fantasy world that's full of crowded coral reefs, chequered seahorses, pulsating jellyfish, undulating octopuses and exotic sea creatures of all shapes and sizes.
It's an ambitious work that reveals fresh surprises on every spread.
Although clearly monochrome, these images weirdly suggest a sense of colour. That's partly due to our knowledge (if we have it) of how actual coral reefs look, and partly due to the great diversity and variation in the types of crosshatching techniques used.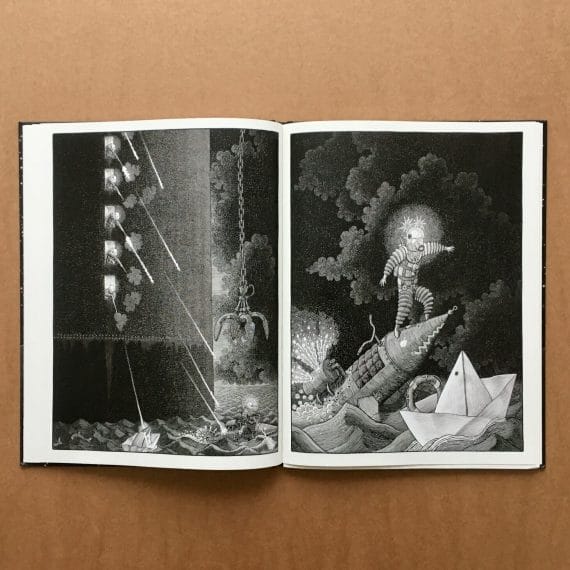 Humour is evident, too. An alien rides a lobster, a whale smokes a pipe, the sea teems with fish-like animals, and a seal balances the boat on its nose. At one point a rival paper aeroplane whizzes past overhead.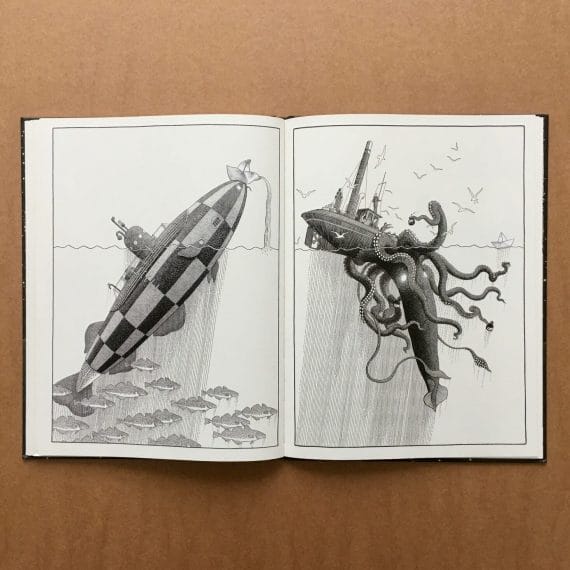 Eventually the little boat sails into a harbour, rests against some stone steps and slowly reveals a ghost-like sailor from its interior. Where did the sailor come from? What is his purpose? And who is he meeting at the top of the steps? As I said, nothing is explained, all is conjecture.
The Wanderer was published with the support of Flanders Literature, an organisation that aims to 'open a window on the dynamic and diverse literary landscape in the northern part of Belgium'.