Where's the Starfish?
Barroux
This wordless book, which does actually have one spread with a few words, is at once a game, a story and an environmental message.
The game is to find three creatures – a starfish, a jellyfish and a clownfish – on each double-page spread.
It's a fun hide-and-seek activity that is likely to appeal to even a very young child, and there are also visual jokes for them to spot as well. For instance one fish has a design of elephants on it, while another is bright pink with white splodges.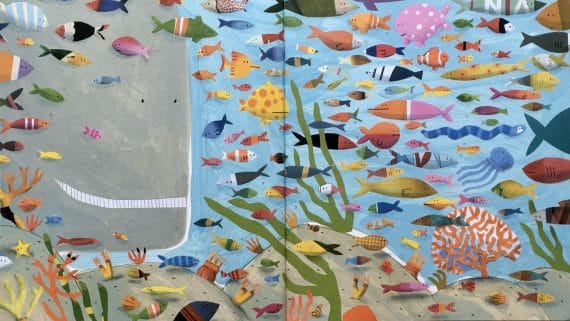 The story is more subtle and builds up slowly over a number of pages.
The protagonist, a whale, becomes increasingly infuriated by the amount of rubbish that's being constantly dumped on his patch of ocean, bothering both him and his fishy friends.
First come small bottles and cans, then medium-size barrels and tyres, and finally large items such as fridges, washing machines and even cars.
Soon the ocean is completely full and there is nowhere for the sea creatures to swim and play.
Barroux's illustrations are colourful and witty. Each sea creature is given a pair of dot eyes and sometimes also a line for a mouth. Although minimal, these small details give the creatures character and help convey their emotions.
The direction the fish are travelling in also helps to focus attention on the growing pile of rubbish. Out of curiosity, they head towards it at first, but very quickly they head away in disgust, as what looks like something interesting turns out to be a threat.
Before long a frown is furrowing the whale's brow. What to do?
A cunning plan soon forms. It seems what goes around can come around, too. Beware humanity, retribution is coming…
Where's the Starfish? is a follow-up title to Barroux's Where's the Elephant? (2015) and it has a similarly strong environmental message. It highlights the increasing damage we humans are doing to our oceans (or jungles in the case of Where's the Elephant?) and emphasises the need for change in a fun, accessible way. This message is reinforced on the final page with a direct appeal to the readers to protect our 'underwater kingdoms for the creatures that live in them'.
Barroux studied photography, art, sculpture and architecture at the École Estienne and École Boule in France. He has worked as an art director in both Paris and Montreal and has illustrated books for adults as well as children.