De Gele Ballon (The Yellow Balloon)
Charlotte Dematons
This title is a 'wimmelbook', or a large-format wordless picturebook packed with tiny images of people, creatures and objects to spot. Children (and adults) may spend hours looking at a single page, yet still find something new to discover at the end of it.
De Gele Ballon (The Yellow Balloon) is a particularly rich example of a wimmelbook. There are 14 double-page spreads to explore, and each one has a different, highly detailed background, from a busy cityscape to a mountain range, from the seashore to a working port. For an easy way to enter this fictional world, follow the advice on the back cover and look for just four things: the blue car, the escaped prisoner, the fakir on a flying carpet, and the yellow balloon.
On every spread there are numerous activities to look out for, many of which are very funny. Find the couple in their wedding finery with the photographer lining them up for their picture; the medieval knights sword-fighting in a castle keep; and the Viking ship heading into the modern harbour.
As well as activities, there are many cultural references to pick up on. Red Riding Hood is there with her obligatory wolf and forest; so is Robin Hood and his band of merry men. On the very bottom of one picture Rapunzel leans out of her high tower window, and on the far left of a chilly snowscape Father Christmas can been seen with his sledge and reindeer.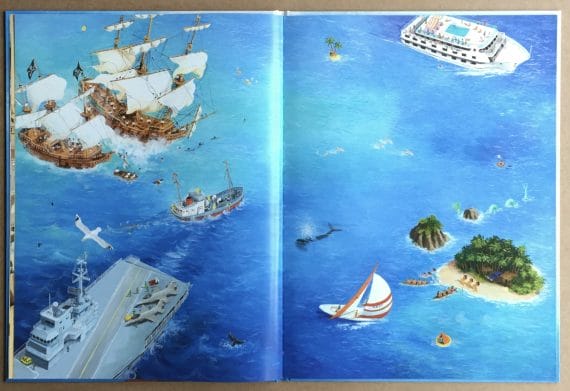 De gele ballon echoes the earlier work of Mitsumasa Anno (see Anno's Journey). As in Anno's work, there are many cultural references, and the individual images are similarly tiny, complex and anachronistic, with subjects drawn from a wide range of material. But Dematons' pictures are also distinctly contemporary and often wickedly humorous too, such as the image of the house from the Hitchcock film Psycho, or the group of sunbathers chilling out on a nudist beach, watched by some naughty kids peering over rocks.
Dematons' colours are vividly intense. Each page has a different colour palette, whether that's the lush yellowy-green of the savannah, the deep blue of the ocean, or the dark green of the jungle, and the depth of each one really draws you in. She also has the ability to draw clearly at a miniature size. For instance Tarzan – like many of her other characters – is less than a centimetre tall.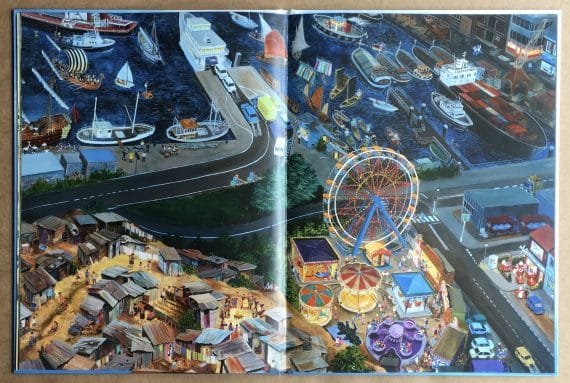 De Gele Ballon is a delightful book that deserves to be savoured. With children, it might be worth taking a spread at a time, extracting all the stories, jokes and references contained within it, and discussing the various aspects of the real world it portrays. This book has so much more to offer than just the yellow balloon of the title, though that is a fun – and challenging – way to start.