Holland
Charlotte Dematons
This magnificent wordless book is a 'wimmelbook', or a large-format wordless picturebook packed with tiny images of people, creatures and objects to spot.
Each aerial picture is a complete visual feast. For instance in the image below we see a townscape, a beach, an island and the sea in between them. There are numerous activities going on in each area: people eating in a cafe, riding horses on the beach, sailing in boats and travelling around on bikes.
A sister volume, A Thousand Things About Holland (2013) by Charlotte Dematons and Jesse Goossens, expands upon and explains the many details seen in the 27 spreads of this wordless title, from Dutch history, geography and architecture to traditions, people, legends and much more.
In this substantial 96-page sister book we learn that this picture represents the five Wadden islands and includes real-life places such as the oldest lighthouse in Holland and a Texel sheep farm. But also nestling in this image (and many others) are figures from children's literature (in this case Spekkie and Sproet), as well as an extinct hairy rhino and statues of people who have various legends attached to them.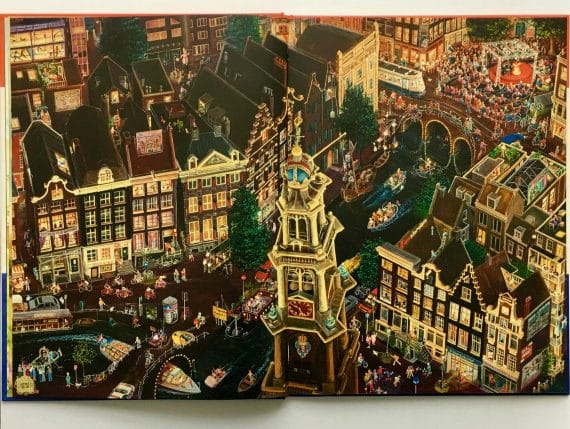 Above we see Amsterdam at night. It shows an outdoor concert, reflecting a regular annual Amsterdam event known as the Prinsengracht Concert. The real concert takes place on the Prinsengracht canal. However, for practical reasons, Dematons has drawn an imaginary canal – an approach she uses elsewhere in the book.
Many of her miniature scenes are anachronistic. For example in this night-time image of what appears to be a modern scene with buses, cars and street lamps, you can see in one small window a young girl holding a plaid diary. She is Anne Frank, the young Jewish girl whose diary, written in hiding during World War Two, was published posthumously.
Look for the 2004 'I Am Amsterdam' logo. And also for the Rembrandt House with the artist standing in the doorway. The picture the people are carrying out into the street is his famous 1642 painting The Night Watch, now on display in the Rijksmuseum. (In fact the picture was probably painted in a gallery near his house rather than actually in it.)
The picture above is of the Efteling, or the Fairy Tale Forest. It's an amusement park, designed by Anton Pieck, that was first opened in 1952 and is still a popular tourist spot for families today.
New attractions are added to the park regularly but some, such as Sleeping Beauty's castle (top left) and Snow White's glass coffin, have been there since the beginning. On the bottom right you can see the seven dwarves taking a quiet stroll.
The pictures show the various places at different times of the year, and the ones above and below are set in wintertime.
Above Christmas is being celebrated in a small town, loosely based on Haarlem. As well as  a decorated outdoor tree and Santa Claus (whose name originated from the Dutch Sinterklaas) arriving on a rooftop, we see carol singers, families out shopping and a poor unfortunate person falling off a bike.
In the Fun On The Ice picture below, the chain of people in the centre of the ice are wearing traditional costumes from different areas of Holland. A variety of skaters can be seen, from beginners to racers, small children to grandmas, and including some professional figure skaters.
The painting of the bulb fields below includes not only tulip bulbs but also hyacinths and daffodils. Dematons creates deliciously bright stripes of colour that stretch diagonally across the spread and provide a dramatic contrast to the busier pictures.
It also shows the flower pageant of the bulb region, the first Dutch-manufactured car (the Spyker) and the first steam train. Even Britain's very own Rupert Bear from the Daily Express is there, sitting on the river bank at the bottom right of the picture.
Of course there has to be a windmill. There are many different types of windmill in Holland and, although only one is shown large in this picture, others can be seen in miniature on the signboard in front of it.
This image depicts both the National Windmill Day and the National Bicycle Day. There are many different bikes to spot, all used for particular purposes.
This is probably one of the longest entries on this site, but Holland deserves the space. There is just so much to see on every page that you could spend a whole rainy day exploring it and still find things you missed the following day.
For instance there are several recurring motifs to find, including a tiny yellow balloon. This is particularly appropriate as Charlotte Dematons created an earlier wordless book in 2003 called De Gele Ballon (The Yellow Balloon).
Whether you are planning to visit Holland and want to discover what makes the country what it is, or whether you simply want to have a fun visual play session with your children, this highly detailed book offers a rich collection of tiny treasures.